Top Home Renovations in 2019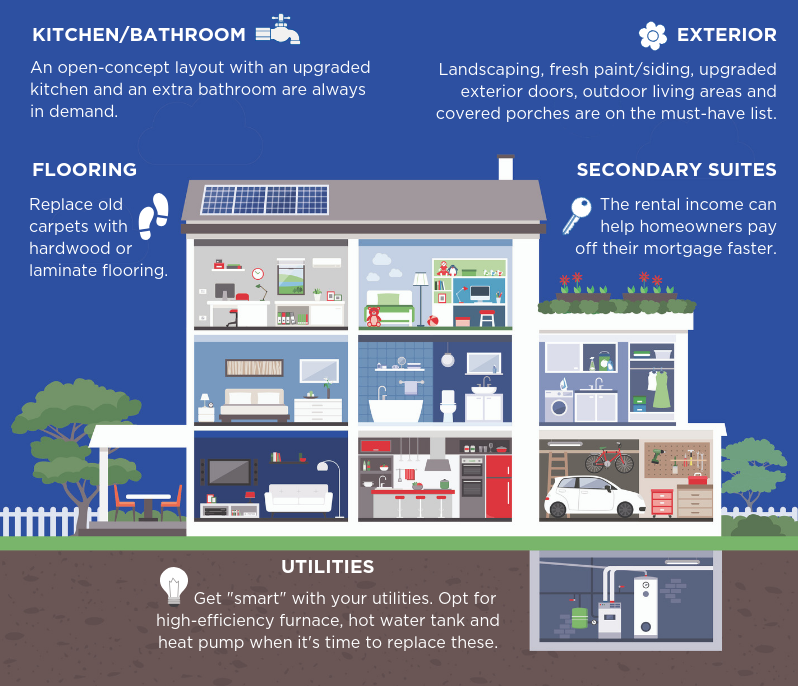 First Impressions Are Everything
Exteriors are quite literally the first thing that people see when they come to your home. Fresh landscaping, new exterior paint, cleaning and/or painting the siding, or upgrading the outside doors are all good places to start. Outdoor space renovations and covered porches are also high up on the list of must-haves.
Utility Upgrade
Sometimes the less "sexy" upgrades are the most important ones. People seem to be more concerned with things like the life of the furnace and hot water tank. It's also important that the utilities are highly efficient. Upgrading to heat pumps instead of the traditional forced air systems that deal more efficiently and economically with changing outdoor temperatures are becoming more important.
Basement Suites
Whether it's to bring in supplemental income or to enjoy themselves, extra space is becoming a priority.
Kitchens & Bathrooms 
Kitchen renovations are always a good place to start to add value to your home. Removing walls to design open floor plans in older homes is always good value. Adding an extra bathroom also goes a long way.
New Flooring
New floors is a good starting point as well when trying to refresh the place.

It's all in the Details
Most people would know that painting of the inside of the home can help with a sale, but pay attention to the little details. Shortcuts won't help in the long run!
"If this article has inspired you and want to be advised by our experts do not hesitate to contact us, S2M building design, we know all the sector, the suppliers, the best prices and without a doubt, we offer the best service in reforms and building design.